Join us on the third Thursday of every month for the Boys Behind the Blog link-up!
The Boys Behind the Blog is a monthly linkup featuring your husband/fiance/boyfriend/best guy friend/dad/brother/grandpa!
Mallory
& I created this link up to brag about the men in our lives and get them more involved in our blogs.
Here's how it works: we post the questions on the 1st Thursday of the month, you ask your guy to answer five easy questions and then link up with us on the 3rd Thursday of the month. Who doesn't love to show off their men?! Grab your guy & link up with us!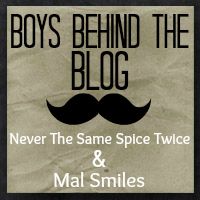 <div align="center"><a href="http://www.neverthesamespicetwice.com/p/boys-behind-blog.html" title="Never The Same Spice Twice"><img src="http://i903.photobucket.com/albums/ac236/sascoma/BoysBB_zps9c35357c.jpg" alt="Never The Same Spice Twice" style="border:none;" /></a></div>